Ad blocker interference detected!
Wikia is a free-to-use site that makes money from advertising. We have a modified experience for viewers using ad blockers

Wikia is not accessible if you've made further modifications. Remove the custom ad blocker rule(s) and the page will load as expected.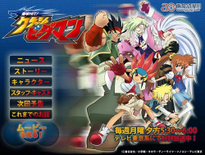 Welcome to New Wiki Name

Edit
BAKUKYU HIT ! Crash B-daman is about a boy named Hitto Tamaga who is looking for his lost father together with her cousin Nana Sendo with a B-daman that hitto's father sent to him the, magnum Ifrit.As he battles he meets new rivals aand some of them are the d "7 Legendary B-ders" including Hitto,Kodoh Kuraki,Konta Tsukino,Teruma Kamioka, and Jube Sanada On their quest to stop the ULTIMATE WEAPONS of their world.
Try this crash b-daman
Edit
Use Justice ifrit's Core but replace the small rubber part and put the one that shade wyvern has (if you dont have shade wyvern its ok), for the shoulder i recommend that you use omega bahamut's but if you dont have use justice's, for the body its up to you but mine is bahamut'sso it would fit the style of the shoulder same as the feet and the hands it's up to you, for the barrel for more accuracy and less power use .67 union for more power and less accuracy use .67 front . .67 union is best for battle coin shooting and .67 front is good for crash towers.for the grip use the speed grip (the one that shade wyvern has )why? because it is the most balanced grip of all.for the holds (the one that is equipped in the hands)I recommend using Justice ifrit for the best results.This is important.... DON 'T EQUIP THE HELMET.....because the helmet is preventing the shoulder from preventing the core from opening widely, in other words less power and accuracy.for the magazine i advice the drum top magazine(even though if the grip is not synchro) to easily reload if you dont have an ordinary magazine is ok.how to train (below)
Edit
How to TRAIN
Edit
If you have 2 crash towers put 12 pillars on one disk even without the marble on top this is just training.another one is get your helper,dad,mom,sister,brother,grandma(joke) to roll coins to enhance your accuracy.(not finished)
Edit
Latest activity
Edit